To celebrate the
November 3rd
release of the
Hidden Worlds
boxed set, I'll be doing a weeklong giveaway. The winners will get copies of the books shown below (same authors with me in the boxset). SO if you haven't already pre-ordered your copy of
Hidden Worlds
, please do!
You'll get twenty of the hottest titles in young adult and new adult paranormal romance for only ninety-nine cents!
Click on your favorite store below:
Amazon
Kobo
Will soon be available at
Barnes & Noble
and
iBooks
!
Stop by my
Facebook Page
to see how to enter the giveaway.
I'm making this a DAILY giveaway for the next 18 days. Every night, starting tomorrow, someone will win a book listed below. TOMORROW, see you there. Grrr, I'm so exhausted I can't think straight. Or two people will win books.
Lola St. Vil's Guardians: The Girl: NOTHING can compare to how hard it was for me to pull away from her lips. I don't think any angel could to do it twice in a lifetime...
Brenda Pandos's Glitch:
When a mysterious guy from the zombie zone sneaks an illegal slip of paper to a beautiful young girl from Brighton, she must decide if she should turn him in or follow what the note says.
Kristi Cook's Wonder: A fun collection of holiday short stories and recipes from Kristie Cook's internationally bestselling Soul Savers Series. Last year's shorts for Thanksgiving, Christmas, and New Year's have been rewrapped into one big gift, along with NEW content.
Laura Howard
's
Stone of Destiny:
Allison thought it was crazy enough when she found out her father, Liam, wasn't entirely human. But now she has to join his magical allies to unravel his former mistress's plans. Aoife wants to keep Allison's parents apart forever.
Shelly Crane's Smash Into You:
Jude has spent the whole twenty one years of his life running. From what, he wasn't quite sure. But then his mother was murdered and all he saw was a running silhouette of a man as his mother said three final words to him. Three words that changed his whole being. Never stop running…
Alexia Purdy's History of Fire: Benton is human, but he walks the line between two worlds: the mundane and the supernatural; the commonplace and the extraordinary. As a rare Fire Elemental Warlock, he finds himself in trouble more often than he cares to admit.
Raine Thomas
's
Defy
: Seventeen-year-old Tate is about to make her parents' dreams come true. Unfortunately for her, their dreams foretell her death.
Amy Bartol's Inescapable: Seventeen-year-old Evie Claremont has been left to wonder if the dark future her dream is foretelling is…inescapable.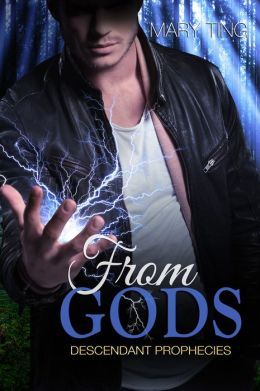 Mary Ting's From Gods: Did you just see a flash of lightning across the sky on a clear sunny day? It's not from Mother Nature. It is most likely from Mason Grand, swoon-worthy demigod, one of Zeus's descendants.
10/23/2014 Julia Crane's Freak of Nature:
Donate Body to Science. Check. When seventeen-year-old Kaitlyn checked the box, she never suspected she'd have her life–and her body–stolen from her
.
RK Ryals's The Acropolis: At eighteen, I am a gargoyle who has been demoted because I broke the rules. Now I have a new mission, a new mark to protect.
Ednah Walters's Awakened: Most teens turn sixteen and get the license to drive, but Lil Falcon gets the license to kill demons.
Eva Pohler's The Purgatorium: Seventeen-year-old Daphne finds herself on an island off the coast of California where a doctor and her staff use experimental methods to terrify their suicidal patients into choosing life.
ST Bende's Elsker: See what happens when the girl next door falls in love with an immortal assassin.
Alyssa Rose Ivy's Flight: Unable to resist the infuriating yet alluring Levi, Allie finds herself at the center of a supernatural society and forced to decide between following the path she has always trusted or saving a city that might just save her.
Stacey Marie Brown's Darkness Of Light: When the latest school explosion of gossip lands Ember in a facility for troubled teens, she meets Eli Dragen, who's hot as hell and darkly mysterious.
Heather Lyons's A Matter of Heart: No matter what Fate throws at her, Chloe is determined to take charge of her life, even as it begins to spiral out of control.
Charlotte Able's River's Recruit: A beautiful, young shape-shifter discovers a lost backpacker trespassing in her territory during a blizzard. She has two choices: recruit him into her cult-like tribe, or kill him.
Erica Cope's In the Shadows: Mia Carrington is struggling to come to terms with the fact that she killed a man, while trying to find a balance between her role as the Princess of the Light Elves and her life as a normal teenager.
Jennifer Snyder's The Unloved: Sometimes the love our heart needs to heal can be found in the familiar eyes of a childhood friend...